Need More "Eating Disorder Recovery for A New Beginning"
Informative, Innovative, Inspirational Segments:
Not Your Typical Eating Disorder Recovery Tips with Dr. Julie T. Anné
Emotional & Binge Eating WeighOut with Dr. Ashley Southard
From Hunger to Fulfillment: Real Questions, Straight Answers
---
Watch an Episode of
"From Hunger to Fulfillment"
This series is a Q & A where Dr. Julie and Dr. Ashley come together to answer YOUR questions (anonymously, of course!) regarding everything related to eating disorders, emotional eating, body-image, weight and FULL recovery.
In this special Thanksgiving episode, you'll find helpful education and guidance regarding how to survive the Thanksgiving holiday when you are working on eating disorder recovery.
---
Watch Dr. Julie's Recent Episode of
"Not Your Typical Eating Disorder Recovery Tips"
You CAN fully recover from an eating disorder, including anorexia and bulimia! Need hope, inspiration and education that teaches you how? Eating disorder specialist, Dr. Julie T. Anné, teaches you "how" working on the UNDERLYING psychological and emotional factors that create your eating disorder can help you to change from the inside-out, for long-term, lasting eating disorder recovery.
In Part 2 of "How to" Use Your Voice to Disempower ED" you will learn how to begin gaining a real sense of empowerment and control in your life, so that ED does not need to gain a pseudo sense of control through eating disordered behavior such as food restriction, bingeing and purging or binge eating behavior.
If you are serious about recovery, but have yet to find HELPFUL guidance regarding how to change underlying emotional obstacles, this video is for you!
" Use Your Voice to Disempower ED – Part 2″
---
Watch Dr. Ashley's Recent Episode of
"Emotional and Binge Eating WeighOut"
Do you tend to go AROUND your emotions, rather than THROUGH them? For most people struggling with emotional and binge eating, they never learned the skill of walking through difficult emotions. Thus, food became a tool to help avoid and shut down emotions, leaving them caught in the vicious cycle of needing more and more food to deal with more and more emotions that pile up inside.
In this recent episode of WeighOut Wednesday, our co-founder, Dr. Ashley Southard, explores this very important issue that plagues nearly all people affected by emotional eating, binge eating, and compulsive overeating. She discusses how you may have learned to go around your emotions, and what you can start doing today to begin going through your emotions in a healthy "weigh."
---
A Very Special International Podcast:  
Featuring Dr. Julie & Australia's Top Weight Management Psychologist, Glenn MackIntosh!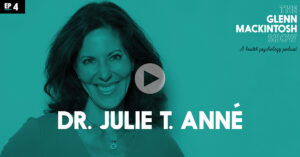 The "Hidden Pieces" that Underlie Emotional Eating & Binge Eating Disorder  (and How to Heal It)
This podcast has been VERY well-received, with listeners throughout the world asking for more information on our innovative approach to the successful resolution of emotional eating and binge eating disorder.
For groundbreaking information on the "3 Pillars" of emotional work that underlies the successful resolution of eating issues, tune in!  Follow this link to listen.
Learn What Our YouTube Series Is All About!
Subscribe to our YouTube channel* for fun, informative segments that will help you create a healthy relationship with food, body, weight and your wonderful self!  Dr. Julie and Dr. Ashley provide helpful education that supports your journey toward FULL recovery from anorexia, bulimia, binge eating disorder, emotional eating, chronic struggles with weight & more!
We are Committed to Education.  Inspiration. And Making FULL Recovery Happen!
We're social butterflies! We'd love for you to join us.
*This is a general information channel directed toward providing education and inspiration to those seeking a more positive emotional and behavioral quality to their life. Questions will be answered in general terms, from a psychoeducational perspective. While Dr. Julie and Dr. Ashley are a licensed psychologist and licensed marriage and family therapist, respectively, submitting a question and/or having your questioned answered by Dr. Julie or Dr. Ashley on this channel does not constitute entering into a formal therapeutic treatment relationship. Formal therapeutic clients who are engaged in a contractual treatment relationship with Dr. Julie or Dr. Ashley are kindly asked to refrain from submitting questions.
SaveSave