Melissa Daniels Bloom, MS, RD
Registered Dietitian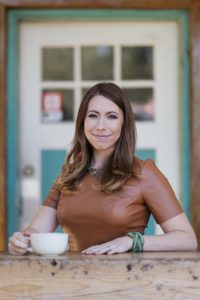 Melissa Daniels Bloom, MS, RD, earned both Bachelor's and Master's degrees in Nutritional Sciences with Magna Cum Laude honors from Texas Woman's University. Mrs. Daniels Bloom is a Texas-native and moved to Arizona to allow for the opportunity to expand her nutrition career and build her expertise in the profession of nutrition. Melissa specializes in the nutritional treatment of eating disorders and disordered eating, bariatric surgery, the gut microbiota, mindful eating, diabetes mellitus, metabolic disorders and the effects of chronic dieting.
Over the past four years, Melissa has engaged her passion to help others by guiding nutritional therapy for those with eating disorders and disordered eating patterns as a Registered Dietitian and Director of Nutrition Services. She enjoys building relationships and empowering clients to make their own decisions with food in a supportive, compassionate and liberating environment. Melissa believes that full recovery is possible and that you can live in peace with food.
Mrs. Bloom cannot stress enough that individualization of nutritional treatment is a key to success. No one person is the same, and respectful care, full attention and consistent critical thinking are three pillars that Melissa implements in her daily practice with all clients.
Melissa has had the opportunity to be involved with local news channels in the promotion of healthy nutrition practices for the public through blogging and video. She has been featured on ABC-15 Sonoran Living, NBC-12 Arizona Midday KPNX and Channel 3 AZ KTVK. She has created hundreds of nutrition content pieces to provide accurate, sound and science-backed information to the public amongst anecdotal-backed dieting trends and the many nutritional myths that saturate our media.
Mrs. Bloom is a member of the Academy of Nutrition and Dietetics, The National Eating Disorders Association, Project Heal and enjoys philanthropy work for local organizations.
SaveSave
SaveSave
SaveSave