TheHealthyWeighOut: Post-Program Support
"But, what happens after the program ends?"
At TheHealthyWeighOut, we know that change doesn't just happen overnight. It can take many months for new ways of thinking, feeling, and behaving to truly integrate into a new lifestyle that leaves you feeling in control, happy, and confident. We also know that "community is key" to feeling supported and to continuing your growth and overall success.
That's why we offer several aftercare services for our alum that foster both a sense of community and support you on your continued path toward change.
1) Exclusively for Program Alum! Interpersonal Process Therapy Group
Because so many of the participants who go through TheHealthyWeighOut 6-week program find the group support aspect of their treatment process to be SO powerful, we offer a
post-program weekly therapeutic support group
. This group is open
only
to alumni of the 6-week and 4-week programs, therefore, you will be surrounded by like-minded and like-bodied individuals who are dedicated to continuing their transformational process together!
Dr. Julie, one of our program's co-founder, facilitates this cohesive, transformational group that is a favorite of our program alum.
Day: Tuesdays
Time: 5:30pm – 7:00pm
Cost: $60.00
Here's a video to help get you more familiar with Dr. Julie's hopeful therapeutic approach.
Dr. Julie T. Anné – loves providing education & hope to help you change your unhealthy relationship with food.
2) One-on-One Treatment Services
All program alum are invited to continue any of their 3-pronged services ~ psychotherapy, nutrition therapy, and/or intuitive movement ~ at a pace that works for them. Sessions can be scheduled as frequently as you desire, and are tailored to suit your personal recovery needs.
3) Exclusively for Program Alum! Private Facebook Group
All program alum are invited to join our private Facebook group, where we post daily education and inspiration to help you continue your journey of change from the inside out. This is a great way to keep the program content at the forefront of your mind, feel supported by our team, and meet fellow alum from other cohorts. This beautifully supportive online community has fostered many meaningful friendships among alum. (A private Facebook group means that none of your 'friends' can see that you are in the group, and only members of this group can view the content and other members.)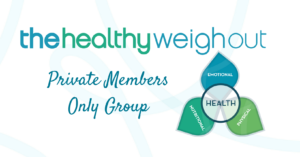 4) Our GROWING Community; Outings, Reunions, & More!
At TheHealthyWeighOut, we are truly out to change the message related to "No Diets!," "Emotions play a role in your overeating behavior," and "Supporting yourself lovingly into change, as opposed to shaming yourself into change." As our message catches on, we are creating a vibrant, supportive and loving community of like-minded, like-bodied individuals who are finding that they need not remain alone in either their struggles, or their triumphs! We adore this TheHealthyWeighOut community and we continue to foster a beautiful sense of community for our current and former participants.
Here's a moving video of our First Annual HWO Alumni Reunion:)
SaveSave