Emotional & Binge Eating Disorder Workshops: TheHealthyWeighOut
Emotional Eating, Overeating & Binge Eating Disorder: Specialized Treatment
In 2014, our specialized eating disorder team at A New Beginning set out to create an innovative emotional & binge eating disorder program, developed specifically for individuals who have struggled with chronic overeating, decades of dieting, and never-ending cycles weight loss and weight gain!

TheHealthyWeighOut is perhaps the first outpatient program in our nation to specifically address the underlying (and not-so-obvious) emotional and psychological factors that created the compulsion to overeat and remain intricately linked to the emotions that DRIVE overeating behavior. Moving beyond simple "diet and exercise" approaches, our program gets to the "root" cause of unwanted overeating behavior and helps you identify, understand, and resolve the core emotional that are driving your compulsion to overeat, so that you can attain sustainable and healthy change!

Our Emotional & Binge Eating Services for Effective Change!
TheHealthyWeighOut offers a variety of services that support your ability to finally conquer chronic overeating and associated struggles with weight:
2-Day Workshops
Using an educational and experiential format in a trio of dynamic workshops, we will teach you the WHY, WHAT, and HOW to finally end binge eating. Together, we will "connect the dots" to the many underlying factors that contribute to your chronic overeating, and we'll help you begin the journey of healthy and sustainable change!
Upon completion of our Workshop series, you will know:
WHY your binge eating developed in the first place and, more importantly, why you can't stop;
WHAT you truly need in your life to end binge eating (and, hint, it's not a bubble bath or another diet); and
HOW to be a fulfilled "normal" eater for a lifetime!
Workshops are conducted in small groups with no more than 8 participants, and are facilitated by members of the A New Beginning expert team of emotional and binge eating specialists at our Scottsdale center.
For dates of upcoming 2-day workshops and to reserve your seat online, please click here.
Our À la Carte Services
Either as a supplement to the workshops or as a
build-your-own program
, our
Emotional
and
Nutritional
à la carte services provide you with the individualized support you need to break out of old habits and cultivate a truly healthy, fulfilling relationship with food, your Body, and your Self.
A Different Approach for Effective Change
Mere words cannot possibly express what this Soulful program provides, so perhaps this video will 🙂
What We Are NOT:

Crash Diet Program
Short-Term, Quick-Fix
Judgmental
Restrictive
Shaming

What We ARE:

Comprehensive

Innovative

Non-Shaming

Different

Welcoming

Supportive

Respected
With a comprehensive focus on the Emotional and Nutritional components of a healthy relationship with food, our groundbreaking approach teaches you how to achieve and maintain a healthy Body and Self – from the inside-out!
You'll Learn:
How to eat for nutritional need, not emotional hunger
How to cope with emotions that drive your overeating, without turning to food!
How to manage & curb your food cravings
How to develop a healthy "non-diet" approach to eating (chronic dieting is ineffective 95% of the time!)
How to stop diet-overeat-diet-overeat problematic eating cycles
How to nourish yourself with fulfilling relationships, instead of turning to food
How to fall in love with healthy & fun movement
Our team has found that this comprehensive, 3-pronged approach significantly reduces binge eating behavior and allows our participants to finally attain long-term behavioral and physical change.
Most importantly, our clients develop a positive relationship with food, Body, weight and your Self, what we refer to as getting "healthy from the inside out!"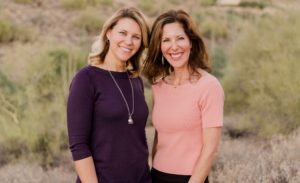 Co-Founders: Dr. Ashley & Dr. Julie
We proudly offer a FREE one-hour Meet & Greet with Dr. Julie or Dr. Ashley, for those who are considering joining our TheHealthyWeighOut program but want more information, or are just not sure if the program is right for them. Come in and meet with us – we love discussing your needs, your goals, and options to help support your desire to live life in an emotionally healthy and fulfilling manner.
Feeling reluctant to try yet another program? Our Program Co-Founder, Dr. Ashley, will put you at ease & give you a sense of the meaningful work we do everyday!
Whichever approach feels most comfortable for you, we look forward to helping you end your chronic overeating behavior, chronic dieting, and associated yo-yo fluctuations in weight. More importantly, we are excited about the opportunity to help you actualize the happier, healthier Life you desire by finding TheHealthyWeighOut!
"It's never too late – I am 57 years old and have battled emotional eating all my life. TheHealthyWeighOut program is truly life changing. Don't hesitate a minute. It has been the BEST thing I have ever done for myself." ~ Female treated for Binge Eating Disorder

SaveSave
SaveSave
SaveSave
SaveSave
SaveSave