Licensed Psychologist, Eating Disorder Expert, Founder & Clinical Director of A New Beginning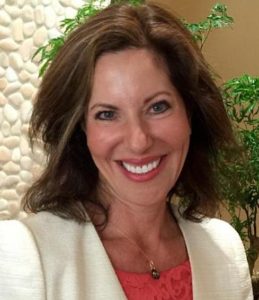 Julie T. Anné, Ph.D., is a Licensed Clinical Psychologist, Eating Disorder Expert, and the Founder and Clinical Director of A New Beginning, LLC, Arizona's celebrated outpatient treatment center dedicated to the successful resolution of all eating disorders (anorexia, bulimia, binge eating disorder), emotional eating, depression, anxiety, trauma, abuse and marital/relationship issues.
She is also the Co-Founder and Clinical Director of TheHealthyWeighOut, LLC a groundbreaking "no-diet" program that is changing the manner in which professionals approach the treatment of emotional eating, binge eating disorder and chronic issues of weight in the United States.
Recognized for her exemplary work in the area of Eating Disorders, Dr. Anné was invited to join the Faculty of Mayo Clinic School of Medicine in 2018. As a result, Dr. Anné serves as a Consultant and Guest Lecturer in the area of eating disorders for the medical students of Scottsdale Mayo Clinic School of Medicine.
For the past 26 years, Dr. Anné has brought her unique blend of passion, skill, and unprecedented HOPE to the world of eating disorders, helping clients and training professionals in her innovative, effective therapeutic approach that brings individuals to FULL and lasting recovery.
Fiercely committed to the healing process of each and every one of her clients, Dr. Anné believes, "the gift within the therapeutic healing relationship is mutual, with both my clients' lives and my life forever changed by the powerful process we journey together."
"In my thirty years of medical practice, I've never met a more effective and insightful therapist as Dr. Julie Anné." — Connie Mariano, MD, Former White House Physician
Esteemed Psychologist for over 26 Years
While Dr. Anné wears "many hats" in her multi-faceted professional role, her primary love is the art of psychotherapy. Through her warmth, compassion and heart, Dr. Anné creates a safe emotional space for her clients to HEAL. An esteemed clinician, Dr. Anné takes a comprehensive approach to psychological health, working to understand each individual client from the multifaceted perspective of emotional, physical, hormonal, psychosocial, developmental and past familial influences.
Dr. Anné's style encompasses an eclectic theoretical blend consisting of: Interpersonal, Emotional Focused Therapy (EFT), Intrapersonal & "Internal Family" Systems, Attachment-Focused EMDR, Existential, Object Relations, Gestalt, Self Psychology, Psychodrama & Jungian approaches.
Dr. Anné believes that when the goal of therapy is to identify – and then fully resolve – the underlying emotional issues that are driving your psychological disorder and/or compulsive behavior, complete and lasting change occurs.
Dr. Anné has a special affinity for working with anorexic, bulimic, and binge eating disordered clients and especially enjoys working with "late-in-life" eating disordered individuals, aged 35 –- 80. Dr. Anné is frequently referred individuals who have "failed" in past treatments and/or who have chronically struggled with their emotional disorders, oftentimes for decades.
In addition to her specialized work with eating disordered individuals, Dr. Anné works extensively with clients struggling with anxiety, depression, low self-esteem, the aftereffects of psychological, physical & sexual trauma, dysfunctional family-of-origin history, and couples seeking to regain a sense of lost joy in their relationship.
Dr. Anné is a formally trained EFT Couples and Marital Therapist and enjoys using EFT as one of her therapeutic approaches to the healing and restoration of intimacy in relationships.
Nationally Recognized Eating Disorder Expert
Dr. Anné is a nationally recognized Eating Disorder and Emotional Eating Expert whose work is frequently featured in the media.
"Dr. Julie" has had the honor of working with the cast of abc's Extreme Makeover: Weight Loss Edition. She has also served as an eating disorder and body-image Health Expert on the Medical Advisory Board of EmpowHER Media. In 2010, Dr. Anné was featured as one of three top national eating disorder specialists on E! Network's 2010 critically acclaimed documentary series, "What's Eating You."
Dr. Julie is a favorite go-to eating disorder media expert who is frequently featured on local news stations: abc15, kpnx15, azfamily3, KTAR, etc. She has, additionally, been a featured return guest on "House Calls," radio show hosted by Former White House Physician, Dr. Connie Mariano. Dr. Julie can, additionally, be found educating and inspiring others through her innovative YouTube series, "[not-your-typical] Eating Disorder Recovery Tips Tuesday."
Lastly, Dr. Anné is a passionate advocate for the therapeutic healing process. Her inspirational work can be found broadcasted throughout many diverse platforms including: public speaking, writing, podcasts, creating new international online programming, social media posts, and YouTube videos. It is with this spirit, that Dr. Anne' was given the Gratitude for Giving "Spirit" Award in 2010.
Dr. Anné received her Master's and Doctoral degrees in Clinical Psychology from the California School of Professional Psychology – San Diego and her bachelor's degree and doctoral clinical training from Arizona State University. Dr. Anné's extensive clinical experience includes facilitating individual, group, marital and family psychotherapy in inpatient and outpatient settings; program development; consultation, clinical training and supervision; community education and outreach; psychoeducation; and research. Dr. Anné has been board licensed in the state of Arizona since 1993.
To learn more about Dr. Julie or to follow some of her inspirational work online, click on the social media links below or visit our press page!
"Living life with a genuine sense of self-worth, empowering self-esteem and the confidence to be who you are truly meant to be, is a gift. For those fortunate enough to have attained these traits through healthy past experiences, there is gratitude. For those who were not so fortunate, there is a beautiful opportunity called 'therapy.'"
Follow Dr. Julie T. Anné on social media!
"Eating Disorder Recovery Tips Tuesday"
featuring Dr. Julie!
You CAN fully recover from an eating disorder, including anorexia, bulimia and binge eating disorder! Need hope, inspiration and education that teaches you how? Eating disorder specialist, Dr. Julie T. Anné, teaches you "how" working on the UNDERLYING psychological and emotional factors that create your eating disorder can help you to change from the inside-out, for long-term, lasting eating disorder recovery.
In Part 2 of "How to" Use Your Voice to Disempower ED, you will learn how to begin gaining a real sense of empowerment and control in your life, so that ED does not need to gain a pseudo sense of control through eating disordered behavior such as food restriction, bingeing and purging or binge eating behavior.
Subscribe to our YouTube channel, "Eating Disorder Recovery for A New Beginning" to receive regular episodes that will help you on your journey to full and lasting change!
"[not-your-typical] Eating Disorder Recovery Tips Tuesday"