Ashley Southard, Ph.D., LMFT
Site Director and Clinical Therapist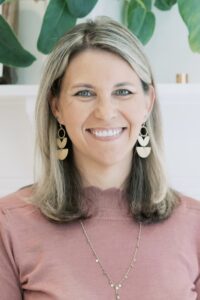 Ashley L. Southard, Ph.D., LMFT, is a Licensed Marriage and Family Therapist specializing in the treatment of eating disorders, trauma, abuse/neglect, relationship problems, and existential issues related to major life changes and personal evolution.
Dr. Ashley is the Site Director of A New Beginning, committed to maintaining the center's reputation for providing excellent, compassionate, and innovative care to each of our cherished clients. Dr. Ashley is also the Co-Founder and Program Director of TheHealthyWeighOut, an innovative program dedicated to helping people affected by emotional and binge eating and related weight issues.
Over the past 20 years, Dr. Ashley has developed a passion for helping the Overfunctioning Woman "connect-the-dots" between what they're struggling with today (such as an eating disorder, excessive people-pleasing, anxiety) and painful past experiences that remain unprocessed and unresolved. With a compassionate understanding that all behavior makes sense in context, Dr. Ashley enjoys helping her clients understand the many life experiences that can eventually lead to the psyche's need for emotional coping. Whether the pain manifests as a persistent eating disorder, relationship codependency, low self-esteem, and/or existential struggles with the meaning and purpose of life, she has an affinity for helping people feel safe to work through their stories, reclaim their personal power, and give themselves permission to create the life they desire and deserve. 
Dr. Ashley is well-trained in various evidence-based modalities of psychotherapy, including Eye Movement Desensitization and Reprocessing (EMDR), Inner Child & Parts Work, Emotionally-Focused Couple Therapy (EFT), Trauma-Informed Therapy, and Energy Healing. Additionally, she has cultivated an expertise in understanding Empaths, Highly Sensitive People (HSPs), and Attachment Styles. All of these tools help Dr. Ashley guide clients on their journey to personal empowerment, where they are able to hand-craft a life that is filled with joy, meaning, and hope!
"What I found with Dr. Ashley was a trust, a warmth, and genuine concern that allowed me to explore "why" with her.  Why I ate until I physically hurt…"  ~ adult female client treated for Binge Eating Disorder
Dr. Ashley also enjoys giving back to the community. Each holiday season she coordinates the Adopt-A-Family gift drive at A New Beginning, bringing the spirit of the holiday season to families in need. She is frequently invited to speak at community awareness events, and serves as a guest lecturer for local graduate school programs wanting to educate their students about mental health issues. She has co-authored a book chapter on the use of feminist family therapy to treat eating disorders, and in 2008 she completed an extensive study that investigated the similarities and differences in African American, Latina, and Caucasian women's experiences with bulimia. Dr. Ashley accepted the invitation to serve as a founding board member of the Binge Eating Disorder Association (BEDA) and the Eating Disorder Network (EDN) of Central Maryland. She most recently served on the Board of the Arizona Center for Emotionally Focused Therapy (AZEFT) for 8 years.
Most important to Dr. Ashley's heart, she lives from the values of equality, compassion, and love. She proudly embraces people from ALL walks of life, and treasures the opportunity to support a fellow human on their journey to healing and wellness.
When not in session, you will like find Dr. Ashley watching Project Runway with her fashion-loving daughter, fine-tuning her Reiki Master skills, or chasing one of our magical Arizona sunsets with her camera.
"Because of Dr. Ashley and A New Beginning, life has changed dramatically."
Dr. Ashley earned her master's degree in Couple and Family Therapy and her doctoral degree in Family Science, both from the University of Maryland in College Park. Dr. Ashley has been board-licensed since 2004.
If you'd like to learn more about Dr. Ashley's work on the Overfunctioning Woman and watch some of her helpful videos, check her out on Instagram or Facebook – @drashleysouthard.
Here's a taste of the helpful content you can find on Dr. Ashley's Instagram page:
Follow Dr. Ashley Southard on Social Media