Clinical Therapist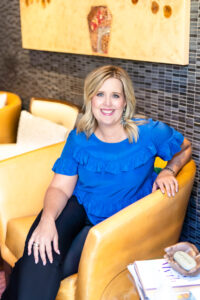 Sarah Halvorson, LMFT is a dedicated Licensed Marriage and Family Therapist, with more than 16 years of clinical experience and 11 years specializing in the treatment of eating disorders. She is passionate about providing psychotherapy and collaborative services for adolescents, adults, couples, and families to help them share their unique stories, heal disorder and painful past experiences, and grow into a thriving person who feels fulfilled and joyful. Sarah enjoys working at both the outpatient and intensive outpatient (IOP) levels of care, both of which are offered at A New Beginning.
Sarah specializes in a variety of psychological issues, including: all eating disorders (Anorexia Nervosa, Bulimia Nervosa, Binge Eating Disorder) and disordered eating, life changes and transitions, performance anxiety, peak performance, couple and family relational therapy, and mood- and anxiety-related disorders.
As a marriage and family therapist with specialized training in eating disorders and mood/anxiety disorders, Sarah utilizes a customized, strengths-based approach to help individuals, couples, and families cultivate healthy coping skills and relationship patterns.
In addition to her clinical work, Sarah co- authored, Mental Skills Workbook: Preparing for Excellence in Sport, and served as a Performance Consultant at Opernfest Prague for elite opera vocal fellows. Additionally, Sarah enjoys providing consultation and education to her community on the topics of eating disorders, peak performance, and wellness.
Sarah earned her Master's degree in Marriage and Family Therapy from North Dakota State University. She is a member of the American Association of Marriage and Family Therapists (AAMFT), Anorexia Nervosa and Associated Disorders (ANAD), and Binge Eating Disorder Association (BEDA).