Join our Renowned Eating Disorder Specialty Team!
Our Team is Expanding: Now Hiring In-Person Clinicians & Dietitians!
A New Beginning is an innovative, respected leader in the field of eating disorders and complex trauma.  Known throughout the United States for our stellar therapeutic skill, highest quality of client care, and our unwavering commitment to FULL recovery from all eating disorders, our team continues to expand to meet the need of ever-growing client demand.
A New Beginning is, therefore, seeking Eating Disorder Specialists to provide in-person and virtual telehealth services including: psychotherapy and nutrition services to clients struggling with eating disorders (anorexia, bulimia, binge eating disorder), emotional eating, depression, anxiety, OCD, trauma, and relationship issues.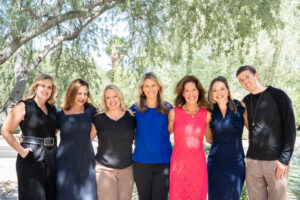 Virtual Services:  Seeking Qualified Therapists & Dietitians for our new Telehealth Treatment Component
The COVID pandemic highlighted the need to ensure that all clients seeking psychological and/or nutrition services have access to quality eating disorder care, even if they live too far away to travel to our Scottsdale, Arizona treatment center location for a traditional in-person session!
A New Beginning offers an exciting, expanded telehealth component to our traditional treatment center to meet the growing demand for deliverance of quality care throughout the state of Arizona ~ and beyond!
If you are a licensed Psychologist, Psychotherapist or Dietitian in the state of Arizona, and you would like to join our team, please contact us about our new telehealth component!
You can become part of our integrated Eating Disorder Specialty team, even if you live outside of the Scottsdale geographic area! Meet for weekly supportive staffings, receive supervision (if needed), coordinate care with a dynamic, highly skilled specialty team, to stimulate your clinical heart and provide the best client care possible!
Are you an Eating Disorder Specialist?
Are you an eating disorder specialist (therapist and/or dietitian) who longs to work alongside an integrated, cohesive team of TOP specialists in our field?
Are you practicing Telehealth and feel isolated?
Would flexibility, support, and a fantastic income round out your "wish list" for a fantastic professional experience?
Are you wanting to learn how to TRULY heal clients with a "Deeper Work" approach that creates lasting, long-term eating disorder recovery?
If you are finding your Self excited upon reading this description, you may be the next perfect fit member for our EXPANDING in-person and Telehealth Team!
Please review the following list of requirements, and submit your vita or resumé to [email protected]!
Must have full or associate licensure – at either the Doctoral or Master's level – in the state of Arizona.
Must have eating disorder experience.
Certified Eating Disorder Specialists (CEDS) especially encouraged to apply!
Trauma knowledge and experience valued.
Immediate openings!
A New Beginning is a really unique professional space where each member of our team is considered part of our A New Beginning treatment FAMILY!  We look forward to the opportunity to welcome you into our "family."  <3