Clinical Therapist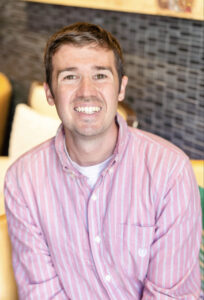 Shawn Kebker is a Licensed Clinical Social Worker, who is passionate about working with teens and adults to provide mental health eating disorder treatment. Shawn's interest in mental health counseling began when he was teaching English to non-native speakers. During his time as a teacher, he noticed that several of his students were struggling with cultural adjustments related to their sexuality and gender identity. This inspired Shawn to pursue a masters degree in Social Work to provide counseling for individuals in the LGBT community. While providing counseling for the LGBT community, Shawn met with several members of the LGBT community who were struggling with a wide range of eating disorders. Shawn decided to pursue extra training in eating disorders and focus his efforts on assisting individuals, both in and outside of the LGBT community, with their recovery journey.
Shawn focuses on guiding people as they learn to change their perspective on food and how they show up in the world. Shawn believes that full recovery from an eating disorder is possible and worth it! Shawn is extremely passionate about helping his clients unpack the sequence of events that led to them developing an eating disorder. He is willing to work with patients in order to help individuals find peace in their lives and make closure with their past. He is a friendly, energetic, light hearted, and optimistic therapist, which are all traits that he uses to build a successful therapeutic relationship with his clients as they work toward full recovery.
Shawn received his BS from Brigham Young University in Provo, Utah; and his masters degree at Case Western University in Cleveland, Ohio. Shawn has worked as a counselor for refugees, the LGBTQ+ community, teens struggling with behavioral concerns, couples counseling, eating disorders, depression, and anxiety.
When he's not working, Shawn can often be found going on road trips, spending time with his friends, baking, hiking, studying Spanish, improving his ASL, and trying new restaurants.