Keelin Murphy, MS, RDN, RYT
Registered Dietitian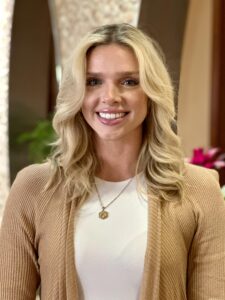 Keelin Murphy, MS, RDN, RYT is a Registered Dietitian with a background in eating disorders and sports/performance nutrition. Keelin loves helping both adults and adolescents heal their relationship with food and nourish optimally for their unique lifestyle.
After obtaining a Bachelors of Science in Dietetics and a Master's degree in Nutritional Sciences from Arizona State University, Keelin worked three years as an eating disorder dietitian across all levels of care, including in-patient, residential, partial hospitalization (PHP), and intensive outpatient (IOP). Her particular passion lies in supporting athletes with eating disorders, drawing from her own experience as a collegiate volleyball player. Keelin also has a keen interest in working with neurotypical individuals on stimulant medications.
Outside of work, Keelin finds joy in savoring oysters, exploring the great outdoors on hikes, attending sporting events, and spending quality time with her dog, Kodak. As a certified trauma-informed yoga instructor, she intertwines physical and mental wellness into her daily routine. Keelin is known for her curiosity of cultural/different foods, spontaneous adventures, and cooking for herself and loved ones. Keelin fully embraces the principles of Intuitive Eating, Intuitive Movement, and Intuitive Living. Her mantra in life is captured by the saying, "everything in moderation, including moderation," reflecting her balanced and holistic approach to both personal and professional endeavors.